Coping With Your Depression & Anxiety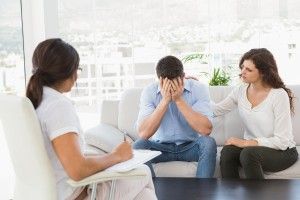 Depression is a scary place to find yourself in. Between the pain that you feel down to the core and the sensation of drowning in darkness, depression becomes a battle we fear we will never win. As with many difficult situations, we can't overcome depression, not on our own at least. If you are reaching out for answers and are determined to find your way to the light at the end of the tunnel, we can help you - here, at The Center of Connected Living.
May 2 through the 8th is National Anxiety and Depression Awareness Week; an entire week dedicated to two of the most common, crippling mental diseases. At the Center of Connected Living, we have constantly do our best to work with individuals that are struggling with depression and anxiety.
Working with a therapist is an absolute must in these instances, because of the underlying issue at hand, but these are a few of the other ways that you could work towards minimizing the overwhelming emotions of your depression and anxiety.
Try to get 8 hours of sleep, no more, no less.

Anxiety and depression have high correlations with sleep problems. With too much or too little sleep, stress levels and emotions fluctuate at levels that become suffocating.

Enjoy the sunlight.

Vitamin D provides our body with a feel good effect. Whether you spend 30 minutes to an hour outside, or take vitamin D supplements.

Get some exercise.

Exercise provides so many benefits to our bodies, and while the physical attributes that change are great, you will see a huge change in the way your hormones and emotions are handled.
Therapy will always provide guidance when it comes to anxiety and depression. While there are plenty of doctors that will prescribe you medication and tell you that's the answer, it's not. The Center of Connected Living - Fl will help work towards the problem that lies beneath the pain. Start working towards your happiness by scheduling an appointment with us today.